Stair Climber¶
This example project makes the Stair Climber climb a number of steps that you select using the EV3 Brick buttons. For more details, be sure to check out the comments in the program below.
Building instructions
Click here to find all building instructions for the Expansion Set Models, or use this link to go to the Stair Climber directly.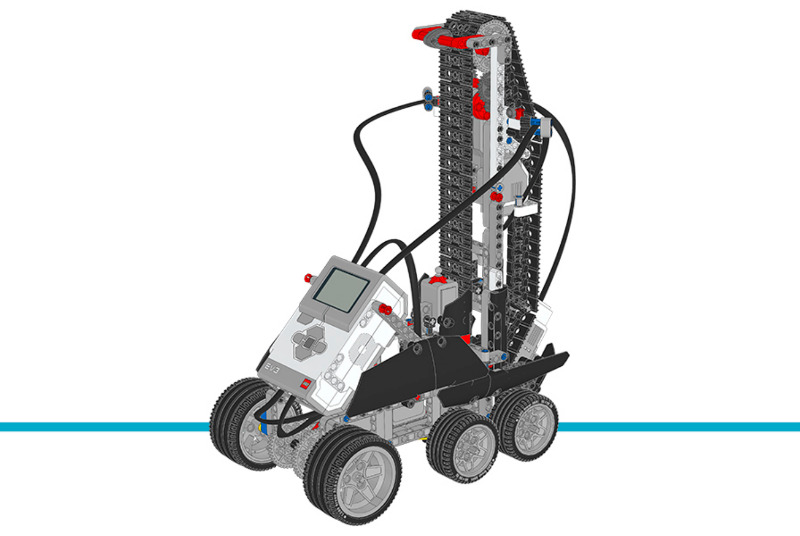 Example program
#!/usr/bin/env pybricks-micropython





"""




Example LEGO® MINDSTORMS® EV3 Stair Climber Program




---------------------------------------------------





This program requires LEGO® EV3 MicroPython v2.0.




Download: https://education.lego.com/en-us/support/mindstorms-ev3/python-for-ev3





Building instructions can be found at:




https://education.lego.com/en-us/support/mindstorms-ev3/building-instructions#building-expansion




"""





from

 

pybricks.hubs

 

import

 

EV3Brick




from

 

pybricks.ev3devices

 

import

 

Motor

,

 

GyroSensor

,

 

TouchSensor




from

 

pybricks.parameters

 

import

 

Port

,

 

Direction

,

 

Button




from

 

pybricks.tools

 

import

 

wait




from

 

pybricks.media.ev3dev

 

import

 

Font

,

 

SoundFile





# Initialize the EV3 brick.




ev3

 

=

 

EV3Brick

()





# Configure the front motor, which drives the front wheels.  Set the




# motor direction to counterclockwise, so that positive speed values




# make the robot move forward.




front_motor

 

=

 

Motor

(

Port

.

B

,

 

Direction

.

COUNTERCLOCKWISE

)





# Configure the rear motor, which drives the rear wheels.  Set the motor




# direction to counterclockwise, so that positive speed values make the




# robot move forward.




rear_motor

 

=

 

Motor

(

Port

.

A

,

 

Direction

.

COUNTERCLOCKWISE

)





# Configure the lift motor, which lifts the rear structure.  It has an




# 8-tooth, a 24-tooth, and a 40-tooth gear connected to it.  Set the




# motor direction to counterclockwise, so that positive speed values




# make the rear structure move upward.




lift_motor

 

=

 

Motor

(

Port

.

D

,

 

Direction

.

COUNTERCLOCKWISE

,

 

[

8

,

 

24

,

 

40

])





# Set up the Gyro Sensor.  It is used to measure the angle of the robot.




# Keep the Gyro Sensor and EV3 steady when connecting the cable and




# during start-up of the EV3.




gyro_sensor

 

=

 

GyroSensor

(

Port

.

S2

)





# Set up the Touch Sensor.  It is used to detect when the rear




# structure has moved to its maximum position.




touch_sensor

 

=

 

TouchSensor

(

Port

.

S3

)





# Using a very large font




big_font

 

=

 

Font

(

size

=

24

)




ev3

.

screen

.

set_font

(

big_font

)





# Initialize the rear structure.  In order to move the structure both




# the rear motor and lift motor must run in sync.  First, the rear




# motor moves the robot backward while the lift motor moves the rear




# structure up until the Touch Sensor is pressed.  Second, the rear




# motor moves the robot forward while the lift motor moves the rear




# structure down for a set amount of degrees to move to its starting




# position.  Finally, the lift motor resets the angle to "0."  This




# means that when it moves to "0" later on, it returns to this starting




# position.




rear_motor

.

dc

(

-

20

)




lift_motor

.

dc

(

100

)




while

 

not

 

touch_sensor

.

pressed

():


    

wait

(

10

)




lift_motor

.

dc

(

-

100

)




rear_motor

.

dc

(

40

)




wait

(

50

)




lift_motor

.

run_angle

(

-

145

,

 

510

)




rear_motor

.

hold

()




lift_motor

.

run_angle

(

-

30

,

 

44

)




lift_motor

.

reset_angle

(

0

)




gyro_sensor

.

reset_angle

(

0

)





# Initialize the steps variable to 0.




steps

 

=

 

0





# This loop checks the Brick Buttons to update and display the steps




# variable.  It repeats until the Center Button is pressed.




while

 

True

:


    

# Display the steps variable on the screen.


    

ev3

.

screen

.

clear

()


    

ev3

.

screen

.

draw_text

(

70

,

 

50

,

 

steps

)


    

wait

(

200

)



    

# Wait until any Brick Button is pressed.


    

while

 

not

 

any

(

ev3

.

buttons

.

pressed

()):


        

wait

(

10

)



    

# Check whether Up Button is pressed, and increase the steps


    

# variable by 1 if it is.


    

if

 

Button

.

UP

 

in

 

ev3

.

buttons

.

pressed

():


        

steps

 

+=

 

1



    

# Check whether Down Button is pressed, and decrease the steps


    

# variable by 1 if it is.


    

elif

 

Button

.

DOWN

 

in

 

ev3

.

buttons

.

pressed

():


        

steps

 

-=

 

1


        

# Make sure the steps variable is not a negative number.


        

if

 

steps

 

<

 

0

:


            

steps

 

=

 

0



    

# If the Center Button is pressed, break out of the loop.


    

elif

 

Button

.

CENTER

 

in

 

ev3

.

buttons

.

pressed

():


        

break





# This loop climbs the stairs for the amount of steps specified in the




# steps variable.  It repeats until the steps variable is 0.




while

 

steps

 

>

 

0

:



    

# Run the front and rear motors so the robot moves forward.


    

front_motor

.

dc

(

100

)


    

rear_motor

.

dc

(

90

)



    

# Keep moving until the robot is at an angle of at least 10 degrees.


    

while

 

gyro_sensor

.

angle

()

 

<

 

10

:


        

wait

(

10

)



    

# Run the lift motor to move the rear structure up, while


    

# simultaneously running the front and rear motors.


    

lift_motor

.

dc

(

90

)


    

front_motor

.

dc

(

30

)


    

rear_motor

.

dc

(

15

)



    

# Keep moving the rear structure up until the Touch Sensor is


    

# pressed, or the robot is at an angle of less than -3 degrees.


    

while

 

not

 

touch_sensor

.

pressed

():


        

if

 

gyro_sensor

.

angle

()

 

<

 

-

3

:


            

break


        

wait

(

10

)


    

lift_motor

.

hold

()



    

# Move the robot forward for some time using the front and rear


    

# motors.


    

front_motor

.

dc

(

60

)


    

rear_motor

.

dc

(

100

)


    

wait

(

1300

)



    

# Play a sound and pull the rear structure up so it gets back to


    

# its starting position.  Keep moving forward slowly by


    

# simultaneously running the front and rear motors.


    

ev3

.

speaker

.

play_file

(

SoundFile

.

AIR_RELEASE

)


    

front_motor

.

dc

(

30

)


    

rear_motor

.

dc

(

30

)


    

lift_motor

.

run_target

(

160

,

 

0

)



    

# Update the "steps" variable and display it on the screen.


    

steps

 

-=

 

1


    

ev3

.

screen

.

clear

()


    

ev3

.

screen

.

draw_text

(

70

,

 

50

,

 

steps

)





# Settle the robot at the top of a step and end the program.




front_motor

.

dc

(

100

)




rear_motor

.

dc

(

90

)




wait

(

2000

)




front_motor

.

hold

()




rear_motor

.

hold

()




wait

(

5000

)